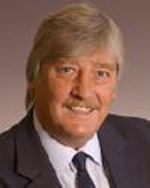 Consultant in Obstetrics and Gynaecology at Northwest London Hospitals NHS Trust.
Honorary Reader in Obstetrics and Gynaecology, Imperial College, London.
Honorary Reader in Obstetrics and Gynaecology, UCL, London.
Guest Professor, University of Southern Denmark.
Official spokesman to the media for the RCOG on Gynaecological Infections.
NHS Independent Clinical Assessor 2nd Stage Complaints Procedure
Non-USA Head of "Gynecologic Inflammation and Infection" section of "Woman's Health Faculty" (Faculty 1000 Medicine)
Reviewer for Grant Awarding Bodies:
Birthright/Wellbeing of Women, RCOG, London
Tommy's Campaign, London
Health Department of Scottish Executive, Edinburgh, Scotland
The Welcome Trust, London
Action Medical Research, London
Manuscript Reviewer for Peer Reviewed Journals:
UK Journals: (13) including Lancet, BMJ, BJOG, & Human Reprod.
Overseas Journals: (12) including NEJM, AJOG, Obstet Gynecol.