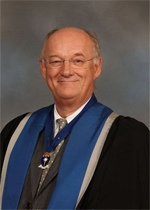 • Current
– Senior Vice-President of the RCOG with responsibility for Global Health.
– Professor of Obstetrics and Gynaecology with a special interest in high-risk obstetrics.
– Head of the Perinatal Research Group, which is part of the Leeds Institute of Molecular Medicine(LIMM).

• Past
– Chairman of CMACE (was CEMACH) running the major confidential enquiries into maternal death (Saving Mothers Lives) and perinatal death surveillance.
– Medical Advisor to the National Patient Safety Agency.
– Chairman of the National Sentinel Caesarean Section Audit.